BVICE Golf Tourney Brochure and Poster
DistanceWeb did the original design and once again had the chance to update the Boulder Valley Ice at Superior three-fold brochure.  The annual Golf Tournament is in its' Seventh year – and going strong!
The core design of this brochure is still holding, however we refreshed the look in a few ways.   Adding some gradient and texture to the background really helped step up the vibe of the piece – better matching the tempo and excitement that the rink offers it's skaters and hockey enthusiasts.
We also added a new poster for this years promotion – including a fun photo illustration of a hockey stick hitting a golf ball.  This is a fun combination of sports to play with artistically.  Next year we have a photo shoot in mind of a geared up player actually  addressing a golf shot on the course!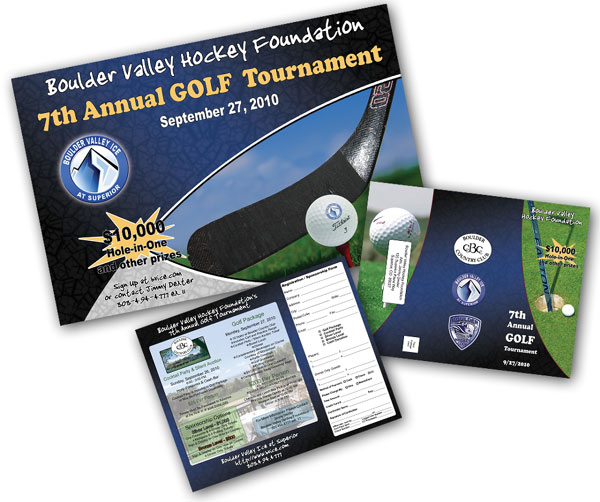 For the outer cover, not much changed other than the mentioned textures and information.  On the inside, a new venue for the tournament provided some photos of the course, so on client request we integrated them.
These all went to print, however the poster design also was used on the web site.
Once again looking forward to next year!
Looking for a brochure or flyer design that you can get some mileage out of?  Contact us, we'd love to help!