Dickens Opera House Benefit Invite

The Dickens Opera House in Longmont, Colorado is generously hosting a benefit event for a local teacher who is battling health issues.
We at DistanceWeb were proud to be able to donate our design services to help with the event.  In addition to other promotional elements, such as a website to register for the event, the event coordinators also requested "tickets" for the event.
Entry to the event is not a static price – it is a donation per ticket – so for those who register and donate, we wanted a nice piece that we could provide that would be substantive and give the event some "feel".  This is essentially a 4 x 8 inch piece on matte postcard stock.
The below "tickets" are what came to mind.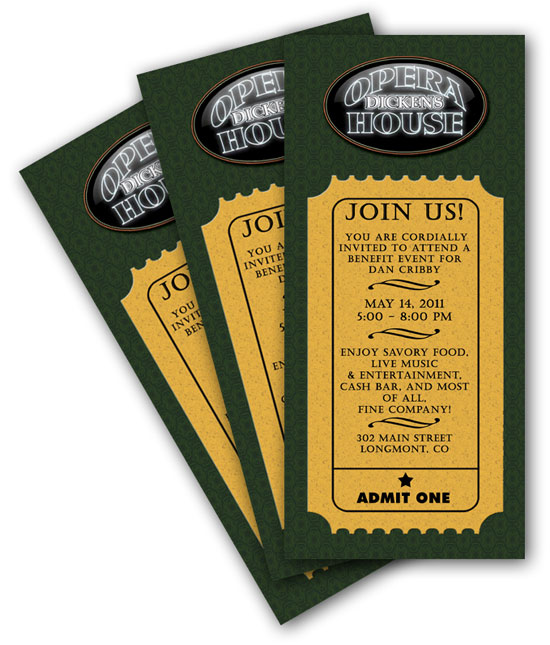 The design infuses the brand identity directly, through use of the Dickens Opera House logo.  As well the background is a variant of the background from their website.  The "ticket" was our idea – overall, the effect is a good representation of the event – a nice venue, but not overly formal – live music, good food and entertainment.
We're always looking for opportunities to help, in-kind or at cost, for those in need, and we're happy to have contributed a small amount to the community effort to support this benefit event.
Looking for a cool flyer or invitation for your next event?   Contact us, we'd love to help!