Longmont Tigers Baseball Sponsorship Flyer
DistanceWeb just completed an updated version of a flyer for the Longmont Tigers Baseball Club.  The Tigers are a youth competitive baseball team who operates on funding from player families and community sponsorship.  The flyer serves both to provide information to prospective sponsors and as a registration form.  The information introduces the Tigers baseball team and talks about how critical sponsorship is for their operation.
Another nice thing about this piece is that it is designed for print, but works great distributed from a website as a PDF file.
The Tigers are not an official non-profit – but for all intents and purposes they are.  Youth sports play a significant role in developing talent, skills and character in our children.  DistanceWeb is pleased to work with clients such as the Tigers for this reason – it's nice to know we're helping an organization hat does good for kids!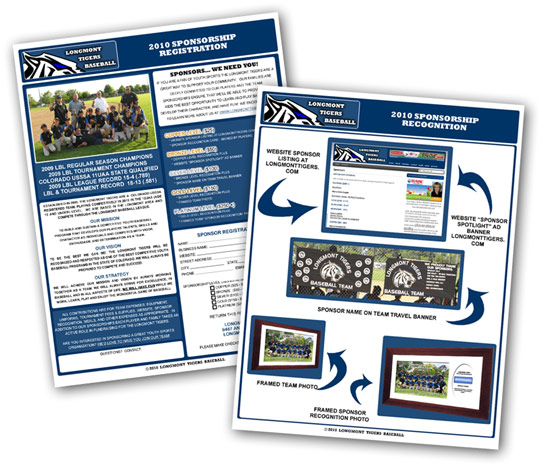 Custom flyers like this are great since they can be designed to both provide information, but to also be persuasive and serve a purpose.
If you are interested in a custom flyer for your business, club, or cause, let us know –  we'd love to help!