Hygiene Elementary School Website
During the 2007 and 2008 school year, DistanceWeb worked with the PTO and Staff of Hygiene Elementary to renovate their existing website.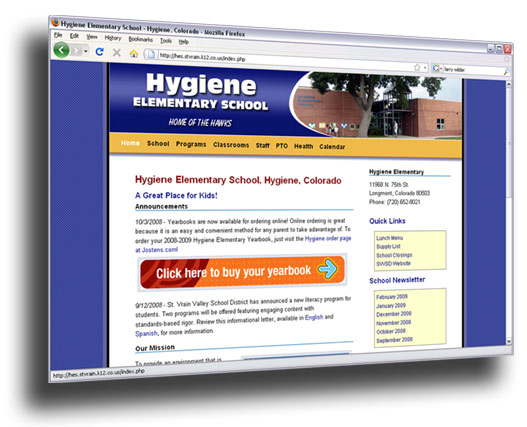 Working as an external vendor was a bit challenging – as we had no direct access to the web servers hosting the site.  That said, we accomplished a lot with this project for Hygiene Elementary:
Updated look and feel – incorporating the current school colors, tagline, and updated photos of the school
PHP driven site pages, allowing for universal menu includes for easier site navigation management
Use of external tools – including Google Maps and Google Calendar
Clean CSS usage and PHP HTML templates allowing for easy maintenance by school staff
This was a fun project and we really enjoyed working with the folks at Hygiene Elementary!
Need a renovation for  your site?  Contact Us – We'd love to help!