DistanceWeb has worked with Ron Feingold for years – Ron is an amazing talent – offering a one-of-a-kind comedy and a cappella  entertainment experience.  This was a site re-design, the aesthetics of which were largely based off of some existing promotional materials Ron provided.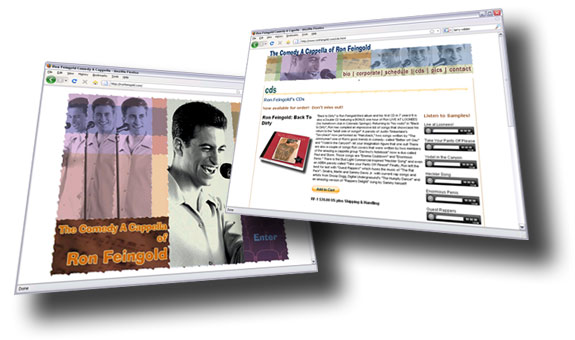 The color palate and use of promotional photos was intended to tie into the existing print materials so that no additional expense would be needed for updating them based on the sie.
Ron is not only a hilarious comedian, but a great persone who is extremely talented vocally and musically.  The website offers his CD's for sale – and you can listen to clips of tracks before you buy.  Ron travels the country entertaining folks in comedy clubs and corporate venues.  Reach out and book Ron today!
Looking for a quick website that ties into your existing brand and promotional material?  Contact us today, we'd love to work with you!